Interested in Hanging a Piece of Cannabis History on your Wall?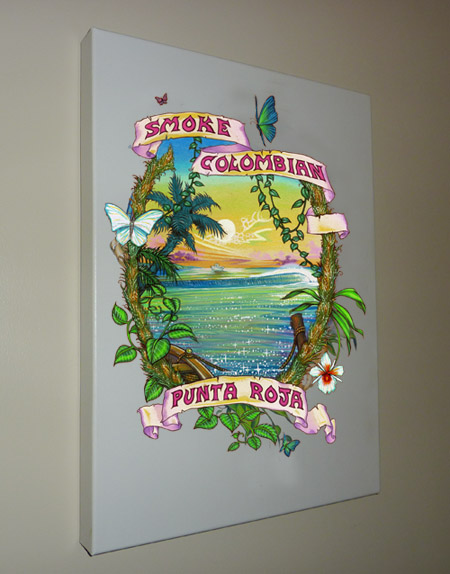 At Ganja Outpost, all of our artwork has been re-created using what is known as the Giclee Printing Process.
Giclee combines the use of the most advanced technologies in digital printing to make a high quality replication of the original Ganja Outpost Artwork.
We offer various types of Giclee prints for our customers. The prints are broken down according first to the quality of paper or canvas that will be printed, second with respect to sizing and third with respect given to the finishing method for the artwork reproduction.
We currently offer two styles of paper for our Giclee prints:
Archival Watercolor Art Paper – A big step above the poster quality printing material. Comes unframed and cut for framing purposes and is delivered rolled in art tube.
Archival Fine Art Canvas – Canvas that holds near original quality reproductions on a stronger, more durable medium. Our canvas giclees are offered unframed, delivered in an art tube or on stretched canvas of either 3/4″ stretched frame or 1 3/4″ stretched  frame.
The selections of the papers and canvas that we use to produce our art reproductions are acid free mediums which help to ensure lasting high quality in the artwork. In conjunction with this, the water-based inks that are used in the process of printing help to make the artwork sustainable for over 100 years.
Art Reproduction Options

Ganja Outpost currently offers three options for the final finishing of your fine art reproductions.
Unframed, Rolled Canvas or Archival Fine Art Paper – Want to frame your art and matting to match the personalized feel of your home, office or smoke room? Our rolled art is delivered in a fine art tube, ready for custom framing.
Gallery Finish – 3/4″ Stretched Canvas – Want your art to be delivered ready to mount in your own custom framing? Our 3/4″ Stretched Canvas is the perfect option for easy follow-up framing on your end.
Ready to Hang – 1 – 3/4″ Stretched Canvas – Want your art ready to hang on the wall out of the box? Our 1-3/4″ Stretched Canvas is the best fit for a customized framing solution ready when your art is delivered.
Please note that Giclee's are custom order products. Please allow 3-5 weeks for delivery in the Continental United States. For orders to Alaska, Hawaii & US Territories, or for International Orders, please Contact Ganja Outpost.
We hope that you enjoy the artwork on your wall as much as we have over all the years since its conception with the original Ganja Outpost in 1975. Please feel free to contact us if you have any questions regarding our Giclee's.
We happily encourage custom Giclee orders. Contact us here for more information
Explore our Cannabis Art Reproductions