In this episode, Skip graduates from High School and heads to Europe to wander the continent, shaping his wanderlust and free-spirit on the continent from Jimi Hendrix's final large-scale performance at the Isle of Wight to back-packing alone into Morocco.
A Stellar Graduation Gift
Graduation from High school was an exciting event, but not what I had been looking forward to for almost a year. I had worked as a busboy at Holiday Inn, in order to save enough money to finance my trip around Europe. I had read James Michener's "Iberia" and was looking forward to the adventure of backpacking around a number of places throughout the UK, France and beyond. My sister and her husband were stationed at a base in the UK, he was an F-100 fighter jet pilot in the U.S. Air Force and they had agreed to allow me to stay with them for the several months and use their place as a base to travel around Europe.
The original plan was to buy a motorcycle and explore the backroads of the English Country-side before branching off onto the Continent for adventures around Europe. When my high-school friend crashed his motorbike coming back from the pub, that plan changed. I parked my BSA 175 bike with Will, bought a Eurail Pass, and headed for Europe and points beyond.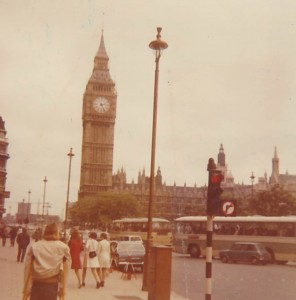 I left out of the rail station at Oxford early one morning headed into London Town, back-pack on my back, full of mixed feelings of excitement and fear. I was on my own, eighteen years on this planet and on my way into my destiny, whatever that would be.
Victoria train station was wall to wall people as I arrived at mid morning. I boarded the train for Dover, and then onto the ferry to cross from Dover to Calais, France. It was late afternoon as the ferry docked in Calais, and I walked off the ship. My idea was to hitch-hike into the nearest town, which was about 50 kilometers away, stay in a local hostel and then proceed to Paris via hitching the next day.
Keep in mind, I am a Florida boy and it's summer and I am used to it being hot and humid. The rain was falling and it was about fifty degrees as I reached the roadway and stuck out my thumb. There were plenty of cars going my way, but none of them wanted to pick up this boy. Daylight faded into darkness and the traffic slowed, but the rain began to fall harder and my spirits were beginning to fade with the light. I had a great parka so I was still somewhat dry, but the temperature began to fall with the light. After an hour or so of walking this lonely dark road I made the decision to bivouac for the night. In place of a warm bed at a local hostel, my European Summer adventure began with sleeping in a field as the temperature dropped and the rain continued.
Paris is for Lovers
With the morning came a new optimism and a drastic change of my original plan of trying to hitch-hike everywhere. I had a Eurail pass in my backpack and I intended on using it as soon as I reached the next train station. Lady luck was riding with me as I stuck out my thumb and grabbed a ride with a small truck headed for Paris. I knew that Paris was about 300 klicks away and I used my best high school french to talk with the driver. It took several hours and the guy was nice enough to drop me off directly at the hostel in Paris. It was afternoon by the time I checked into the hostel and got myself something to eat in a small Paris cafe.
The great thing about hostels in Europe in those days in the early 70's was not only their affordability, but the fact that kids my age could meet other traveling partners. It was a time lost when you could actually do "Europe on Ten Dollars per Day", a copy of which was on the top of my back-pack. I spent the next several days with a girl from Pennslvania. She spoke perfect french, we shared coffee and croissants in the morning, the louvre museum and the Palace at Versailles by day and many bottles of french wine in the evening. Like many before me, I was tempted to stay forever, here I was eighteen and in Paris, living life. I tried my best to get her to travel with me on my journey, but alas, my time with her was destined to be short and very sweet. I took a morning taxi to "le gare" and boarded the first class section of the train from Paris to Madrid, on my own again and loving every minute of it.
South to Madrid
Madrid is located in the center of the Meseta central plateau of the Iberian Peninsula. By early evening I could see the lights of the city from far out in the plains. It took almost twelve hours for the trip, but since I was in the first class car, the journey was very comfortable with a dining car for breakfast, lunch and afternoon snack. I was well rested and ready for an evening in Madrid as I checked into the youth hostel.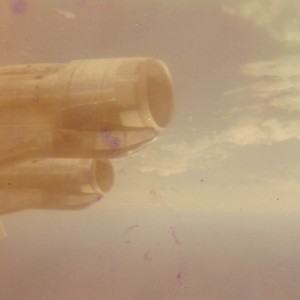 Dinner in Madrid begins at ten in the evening and usually lasts until after midnight. I met some new friends from the hostel and we all went out for an evening of food and considerable drinking. A few days were spent walking around Madrid, looking at all of the incredible architecture and finally taking in a bull-fight at the Plaza Toros Las Ventas. I found it to be very gruesome, due to the fact that the bull was being teased unmercifully, and then finally killed. I thought I would like it, but it left me feeling bad for the bull. I guess I felt as though it was kinda like the Eiffel Tower in Paris, not to be missed. I wandered back to the hostel and decided to pack it up and move on the next day.
The train from Madrid's Atocha station was crowded as I boarded to Algeciras via Malaga. My Eurail pass was like gold as I was able to travel first class anywhere I wanted without any cost to me. It was great! Spain is a huge country, mostly plains, and I watched as the hours melted away with the plains blurring outside the window. I enjoyed some lunch and dinner and then arrived at Algeciras station just after dark. A short walk from the Train station was the youth hostel, it was across from an incredible park and within walking distance to the port where I would take the ferry to Tangier, Morocco. I was excited when I walked into the hostel and heard voices speaking in english. I checked in and walked over to the group of five other Americans who were staying at the hostel. It was nice to have some other people to hang with, as most of my time in Madrid was truckin it alone. We all went out to a cafe and grabbed a bite to eat. Over several beers, I learned that they were all "heads" and they were all headed to Morocco. I was half-drunk but very excited to have like-mined people to travel with into North Africa. I was always somewhat fearful of going into Morocco getting totally stoned alone, so this news was totally welcomed.
To the Land of Hashish
The next morning as a group, we all made our way to the ferry and climbed aboard. The plan was to get to Tangiers and then take a train to Fez. One of the guys in the group had a "friend" who knew a guy who knew a guy in Fes who supposedly had good hashish. Off we all went into the wild blue yonder as we the boarded the train to Fes from Tangiers. The train was like the Graham Nash song, "Marrakesh Express". People everywhere, chickens in cages, people with goats, a real side-show. In the middle of all of that, six of us young kids, in search of hashish. The train took forever and we arrived in Fes, the cultural capital of the country, in the early evening and found a cheap hotel and checked in. Weird was the word of the day. At that point in my young life I had not spent any time in any third world countries and all of the people dressed in long robes, some with hoods, locally know as djellabas, made them look very intimidating. Some of the men were even wearing long curved knives;right out of the back-lot in Hollywood.
My new friends and I hit the streets in Fes and went into the central market, known as a Souk, a place where you can buy literally anything. One of the guys found the guy that he was looking for and we all followed him thru a maze of alleys and covered areas into what must of been a house of some kind. Inside was a large room with a huge hookah pipe square in the middle of the room. The Moroccan guy reached into his bag and pulled out an aluminum packet of what looked like a brownie. After loading the pipe, we all sat around and took turns drawing on the hookah. Within a few minutes, we were all very stoned. A bit of paranoia set in because of the strange location and the fact that I was really high. But I was happy to have my new friends. After another bowl of the kif, we purchased a chunk of the hash and then headed back out into the street. Everyone was just as high as I was, as we made our way back to the marketplace. It was a wonderfully colorful place with all kinds of strangely dressed people, selling all kinds of things. I bought a traditional men's Djellaba, kinda a long dress like robe, with a hoodie attached. We all wandered around totally stoned out for hours and finally found ourselves at a traditional restaurant enjoying a wonderful Moroccan dinner. The day was a total success!
The next several days were spent in and around the city of Fez, smoking the kif and eating it. After about a week, I began to feel the urge to travel and bid farewell to my new friends and headed up the road to Tangier. I crossed back into Spain at Algeciras and got totally worked at Customs. They tore up my entire backpack, looking for drugs and questioning me about where I had been, what I had done, did I have any drugs, on and on. It was my first experience with an out of control Custom's agent. Fortunately, I knew better than to carry any hashish with me, and luckily I did not get caught holding. It would have been a very bad situation, indeed. I finally walked out of the customs area and headed directly to the train station.
I booked a reservation on the next direct train outbound to Barcelona and made my way to the platform. Again, having a first class ticket made the trip wonderful. It was an overnight train into Barcelona and I was blessed with a first class sleeper cabin. I loved my Eurail pass!
With the bright sun creeping into the window in my cabin, I was awakened as we slowed into the station. Barcelona was teeming with activity as I made my way to the ticketing area and booked the next train out to Geneve, Switzerland. I was thinking of staying in Barcelona for a couple of days, but after all of the hot weather in Spain and Morocco, I was ready for the mountains of Switzerland.
To the Land of Mountains and Money
Geneve in the summer, ahhhhhhhhhhhhh.
I believe my love affair with Switzerland began when I was a boy. I used to sit by the hour and look at books with pictures of the lakes and the mountains of Switzerland, dreaming that I was there. I arrived in Geneve in the late afternoon, Le Gare, the train station, is located just behind the lake, just off of the Rue de Lausanne. Fortunately for me, the youth hostel was just a block from the main train station. I checked into the hostel and began my exploration of the city I would come to love. My walk down Rue des Alpes, toward the lake, took me past the Hotel Richemond which is situated just behind the small park, the Square des Alpes. I was totally taken by the beauty of the hotel, the park, the lake, the Jet d'Eau and everything that is Geneve. Little did I know or ever expect, that in just two short years, I would be back as a guest of "Le Richemond",  to this day one of my favorite hotels in the world. I walked around Geneve for several days, from the Flower Clock to old town, taking in all the city has to offer. As a young man, I would sit at the lake and day dream about all of the things that were happening at those Swiss Banks. In a few short years, I would know the insides of many of those banks intimately.
I woke up early and walked to the train station, adventure was in my blood. My next destination would be the Matterhorn Mountain. I took the train from Geneve to Visp and then changed onto the cog train up the mountain to Zermatt. In those days, there were no cars or trucks in Zermatt, only the train and once you arrived you would have to walk or bike around the city. The hostel had a perfect view of the mountain that I had loved since I was small boy. The Matterhorn, a majestic peak that signifies all of the Alps, was right out my window. I found a great little cafe and enjoyed a dinner alone and then made my way back to the hostel for the night, it was freezing as I took out my parka for the second time on this trip. The next day I was up with the dawn, gloves on my hands, parka on my back with my jeans and hiking boots, I began my accent up the mountain. It looked so easy from afar, but the climb was very challenging. I trucked for hours and finally reached the base of the mountain of my dreams. I stopped and spent some time, just looking at the incredible immense beauty of it all. It was like a dream for a boy of eighteen years to have finally reached the base of his boyhood dreams. I continued my climb and worked my way up the base of the mountain, I had walked for almost seven hours and I knew I had a long walk back to the city, far below, as I turned and began my decent. I reached the city just as the sun was setting, having spent the day of my dreams in the mountains of my dreams.
Oktoberfest Calls
Next stop would be Munich, Germany just in time for Oktoberfest. The train thru Switzerland into the Motherland of Germany was nothing short of magnificent. I made a mental note that I would return to these lands, not knowing just how soon and how often I would find myself in Switzerland in the coming years. It would become my second home.
Munich was crazed, people everywhere. My Grandfather had told me to go to Oktoberfest, as he had enjoyed it when he was a young man. I found the youth hostel, it was not too far from the train station. I entered the hostel only to find that they were full, due to the celebration. I hadn't calculated this into my plans, I really did not know what to do. I did what any traveling young man would do, I headed for the beer tents of the Oktoberfest. I met a nice blond-haired, blue eyed young lady that showed me the ropes of the festival. We drank way too many liters of Spatenbrau, and the night went on. The next morning I found myself still drunk, not hung-over. I stumbled to the train station and took a train north. In the first class cabin, I found a room to sleep off my German beer buzz. It was afternoon when I finally awakened from my drunken stupor, whereupon I exited my northbound train at the next large city, I believe it was Leipzig. I caught the next train south, to Munich just in time to arrive for another night of festivities at the beer halls of the Oktoberfest. I found my fraulein, from the night before and we continued into the night, this time she let me stay at her place for the night. A couple of days of this and I was feeling very old, indeed. The morning came and I made my way back to the train station, this time I boarded a train bound for London Town. I had to get back to the UK , as I was scheduled to attend the music festival, known as "The Isle of Wight." Just me and 500,000 other people enjoying days of music and hashish and the one of the last performances that Jimi Hendrix would play.
But that is for another time and another story…