Previously, Skip discovered that his close friend's brother was running hash back to the US from Morocco.

Our story continues as Skip learns about the exploits of the Hash Brothers in Morocco.
Paranoia Strikes Deep
I was freaked out. My mind started to race, as I realized what was happening in the small house with the group of new friends I had made.
"So, that's how you guys always have such good smoke around?!?!" I queried Barry with an excited grin.
His response was a bit cautious, but as he looked up at me he admitted what I had already pieced together in my mind.
"Yeah, that's it man. My brother and his friends go over there and come back with great hash.
But don't open your mouth about it man. It's a pretty sweet deal, but damn risky."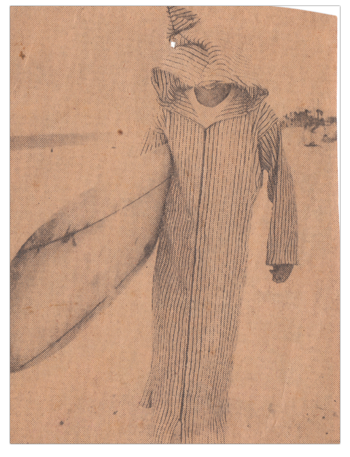 "Holy Shit!" I exclaimed, as I continued to add the equation together. This was unbelievable! Everything was revolving around these guys risking a run to Morocco, coming back home with bricks of beautiful hashish, and selling some so that they could then enjoy their lives until the next run was planned.
Standing there that day, I never could have guessed that only two years from that date, I would be smoking hash in Morocco and only a short eight years later I would be a partner in a sailboat gig that took boatloads of hash out of the same Rif Mountains that I had encountered that day in the picture in Barry's house. (but that's another story)…
I continued spending time with Barry and when I saw Jeff, I treated him with a new sense of awe and respect. After seeing the pictures that day and piecing together the gig that he had orchestrated, I couldn't help but be impressed by the ingenuity and flat-out courage of this early smuggler.
One afternoon when all my commitments were clear and I hadn't seen Barry or Jeff around the beach or at work in a while, I decided to head over to their house to enjoy some hash. When I arrived at their place, something seemed a bit unusual. The door was a bit ajar as I walked up the front steps of the porch, and as I cruised into the normally raucous living room, only the core members of the home were present. The house was cleaner than I had ever remembered it, and the large hookah pipe was absent from its normal position in the center of the room.
Barry recognized my presence and walked over to me immediately.
"Hey, what's going on?" I asked him as he approached.
"Hey Skip, come outside with me for a minute will you man?" Barry asked me, clutching me by the arm and leading me outside toward the back.
Just looking at Barry, I knew instinctively that something was off tilt. His eyes were a bit shrunken back into his head and he looked as though he hadn't slept in days. Walking into the bright southern sun that afternoon, I waited patiently as Barry explained the situation that was unfolding.
Lost in Morocco
"Jeff is late coming home from Morocco man." Barry told me with consternation.
"What do you mean?" I asked in trepidation.
"He probably just got caught up on the continent Barry…you know how he can't get enough of those European chicks." I joked, trying desperately to lighten the vibration.
"No," Barry shot back.
"These guys are always on schedule as far as their hash runs. He was supposed to be back from Morocco late last week and everyone is freaked out man." Barry explained with extreme alarm and pain on his face.
I could tell that the situation was serious and didn't want to downplay what was happening.
"I don't know what to say Barry." I told him, all the while clutching him on the shoulder.
"Yeah, I know man. It's really a bum trip." Barry told me as he sat down on the small back porch.
"His buddy is going to leave tomorrow to try and find Jeff in Morocco. Hopefully he can figure something out."
After the conversation, it was obvious that the day's events weren't going to lead to any hash induced adventures. The older guys in the house were absorbed in talks about how to proceed with finding out the whereabouts of Jeff, while Barry and I took off to the beach with me acting as a bit of a leaning post for Barry's shaken psyche.
Years later I heard that Jeff did indeed finally return from that trip to Morocco but to this day I'm not sure about the actual story. I never really heard, nor did I ask. The subject was totally off-limits, for obvious reasons. The other older guys from the University of Pennsylvania eventually left to head back up North, leaving Barry to fend for himself in our small beach town. Barry and I remained friends for some time, but we grew apart as I got closer to my High School graduation.
Paths Diverge
As Barry and I grew distant, our paths took us in two separate directions. My adventures in the next couple of years led me across the European continent before bringing me back to the beach where a simple twist of fate would lead me deeper into the cannabis trade.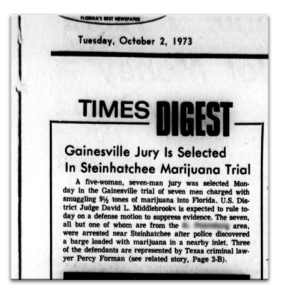 Barry, on the other hand, started hanging more and more with the fishermen who for years had been some of my closest friends. As I finished High School and traveled around Europe, the fishermen, along with Barry's help, began expanding the possibilities of ganja importation. Eventually, Barry and my old buddies began doing bigger and bigger loads of fresh Jamaican Ganja.
As the years passed and I became more and more involved in the ganja trade, my own personal level of secrecy caused a disconnection from many old friends, including Barry. I lost track of what Barry was doing as I became more and more consumed with my own "gigs" and the partners that I worked with on various loads.
One day, a few years later, word started spreading around the beach that a friend of mine from High School, Mike Knight, had a load of reefer busted up near Steinhatchee, Florida. People on the beach started talking about the bust, as it was, at that time, the largest marijuana importation seizure ever made in the U.S. It wasn't until the newspaper article came out regarding the "Steinhatchee 7" that I realized how deeply ingrained Barry and a bunch of my other friends had become in the pot game. Luckily for me, by that time, I had moved away from Jamaican Ganja and I was deeply involved in establishing my own connection for reefer in Santa Marta, Colombia, with my older brothers.